Salesforce Solutions Architect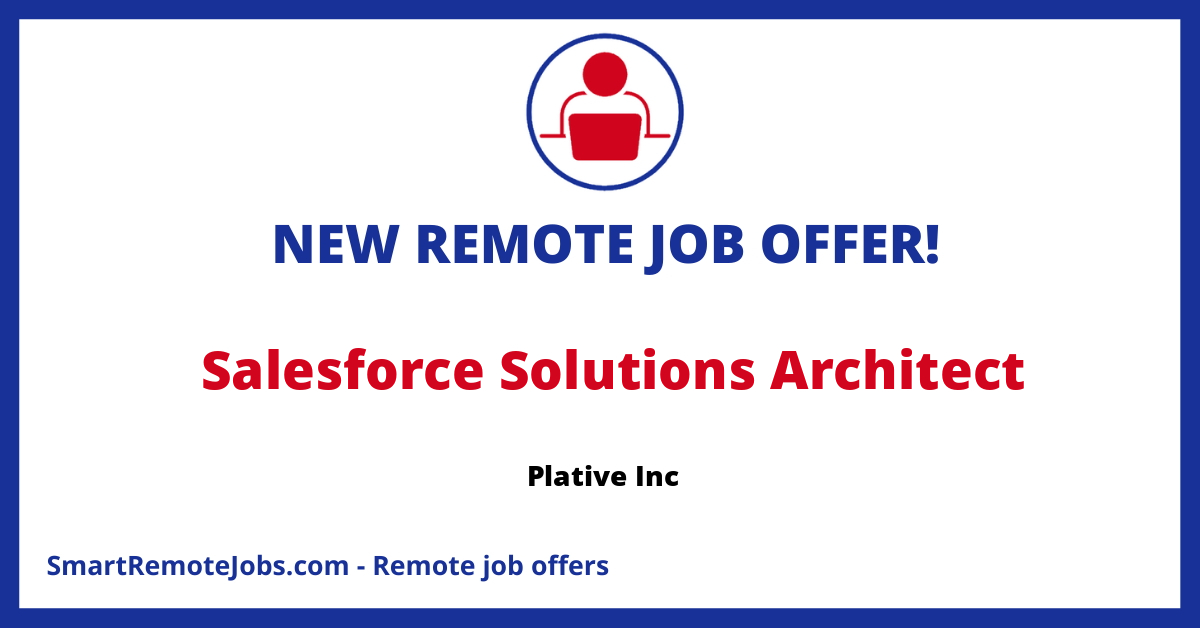 Solution Architect Job Description
The Solution Architect plays a crucial role in designing complex solutions after in-depth analysis and understanding of the business requirements. As an architect, your job entails working directly with different parties such as the client, sales partners, and delivery teams to ensure successful implementation of the business strategies.
Solution Architects are expected to lead consultative engagements with medium and enterprise clients and work closely with key stakeholders to create compelling visions. This role requires an individual to provide advisory services as well as execute on strategies. Such professionals serve as experts who should possess strong interpersonal skills, functional and technical knowledge, and a deep understanding of Salesforce and its offerings.
Responsibilities
In this role, you are expected to support the Plative and Salesforce Account Executives through product demonstrations, Solution Architecture, and detailed proposal creation. Your duties will include providing strategic guidance to minimize tech debt and risk while driving business value. As a solution architect, you must inspire clients to improve their performance through the Salesforce platform. Furthermore, your role entails leading business discussions with stakeholders to advise on required products, configurations, and customization based on the client needs.
Required Qualifications
This role requires at least 10 years of successful IT experience and 5 years of experience as a Salesforce Architect. You must demonstrate strong knowledge of Salesforce integration patterns, web service API's & limitations. Excellent communication skills, both written & oral, are a must. An individual suitable for this role must have the ability to learn quickly and function as a positive and creative member of a team.
Desired Qualifications
The ideal candidate will have a hands-on mentality and experience building point-to-point integrations leveraging Apex. Experience with Enterprise Middlewares such as Jitterbit, Boomi & Mulesoft and with Front End JS frameworks such as REACT, Aura & Angular are highly desirable.
Plative Inc. is committed to creating a diverse environment and is proud to be an equal opportunity employer. All qualified applicants will receive consideration for employment without regard to race, color, religion, gender, gender identity or expression, sexual orientation, national origin, genetics, disability, age, or veteran status.
This job offer was originally published on Jobicy