Healthcare Recruiter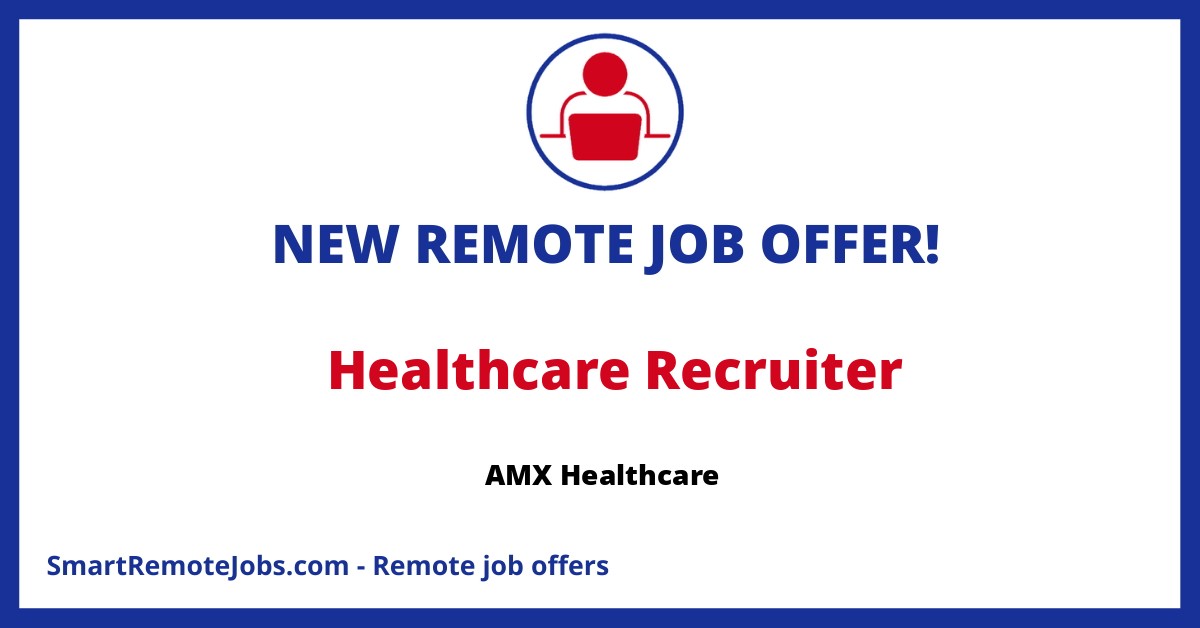 About the Role
AMX Healthcare is searching for a motivated, ambitious, and enthusiastic Healthcare Recruiter to join their remote team, working directly with the Miami office headquarters. The ideal candidate will work to nurture existing relationships while also establish new ones with healthcare professionals and AMX client partners. Although this position is remote, an energetic candidate with the right attitude could find a rewarding and fulfilling career in professional healthcare recruitment.
Company Overview
AMX Healthcare is a rapidly growing, tech-focused workforce solutions provider that seeks to offer its clients superior healthcare staffing and contingent labor solutions. The company values personal development and the potential of its members, which engenders a future-focused, problem-solving culture where team members can make a real impact.
Why Join AMX Healthcare?
AMX Healthcare is keen on establishing long-term relationships with its team members, supporting them in their career journey and fulfillment. The firm provides an incentivized earnings system with a sizable bonus potential and an attractive base salary with a first-year OTE of $150K. Other benefits include a flexible work schedule, paid work trips abroad, and professional development assistance.
The Role's Responsibilities
The Healthcare Recruiter will proactively qualify, recruit, and pair clinicians with healthcare assignments across the national marketplace. Developing a flourishing network of healthcare hiring partners in diverse healthcare settings is also required. The candidate will support the client partnerships team with leads, using tech-based recruiting tools, relationships, and referrals. The role will also involve management of administrative tasks and candidate consultation.
Qualifications and Requirements
The aspirant must have a Bachelor's degree (or its equivalent) and must possess excellent communication skills to nurture valuable relationships. A career-focused passion and the ability to work independently or as part of a team are also desired. Individuals who are patient, trustworthy, and open to learning are the ideal fit for this role.
This job offer was originally published on Remotive