Sr. SEO Specialist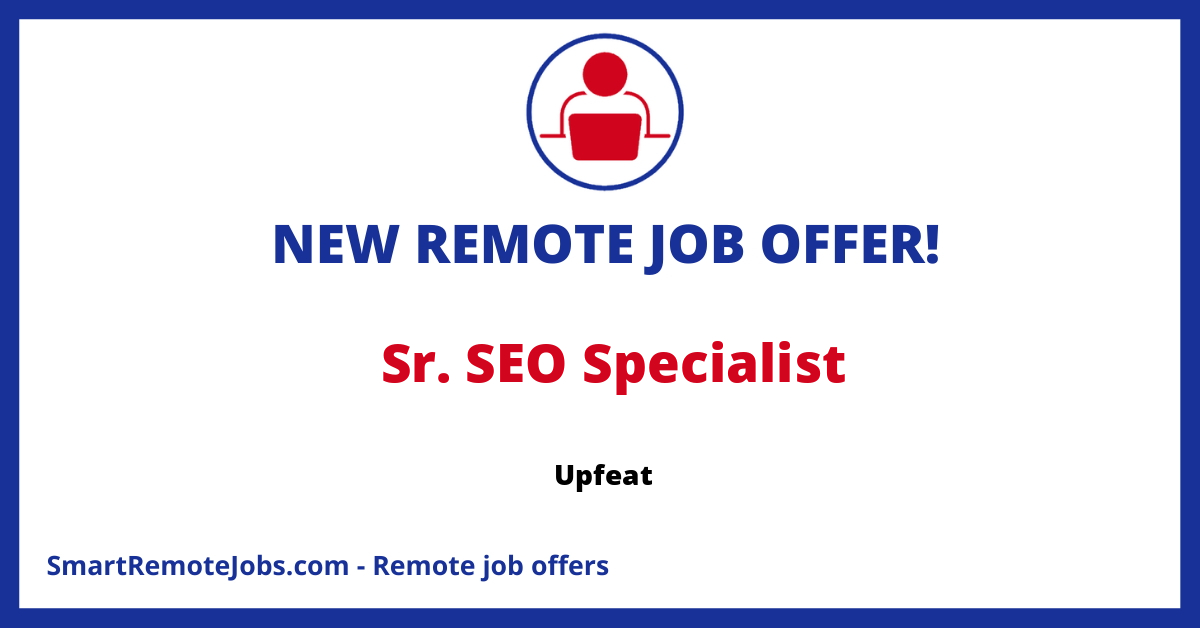 About Upfeat
Upfeat is dedicated to aiding online shopping by providing the best deals available. With the right mix of technical expertise and business acumen, the company has successfully penetrated 5 global markets, collaborating with 20 partner sites, and boasts a whopping 40 million unique users. Their goal is to build an open and collaborative remote-first environment that encourages learning and experimenting with new ideas and technologies. Upfeat has earned its position for a second year in the Globe and Mail Report on Business of Canada's Top Growing Companies, also recognized in the Deloitte Technology Fast 50™ program and the Deloitte Technology Fast 500™ program.
Role Description
Upfeat is on the lookout for a Senior SEO Specialist, who would be in charge of strategizing and executing the company's majority SEO initiatives. This senior role requires interaction with most departments within the company to ensure coherence and thorough implementation of defined SEO strategies. The specialist would need to optimize on-site technical SEO factors and assist editorial teams in producing SEO optimized content.
Responsibilities & Qualifications
The responsibilities of the role include identifying areas of technical SEO improvement for a custom CMS, creating, testing, and implementing market-leading SEO strategies and monitoring Google algorithm changes for effective adaptation. The candidate should have a minimum of 5 years Senior SEO experience, have managed the SEO strategy for a website with a minimum of 1m+ organic search traffic per month, and demonstrate hands-on experience with various tools and software. They should also show a proven track record of improving website health, growing DA, and significantly driving the amount of non-branded website visits.
Notice for Job Applicants
Upfeat is an equal opportunity employer that treasures diversity and inclusion. Although all applicants will be appreciated, only candidates that are shortlisted will be contacted for an interview.
This job offer was originally published on Jobicy