Human Resources Director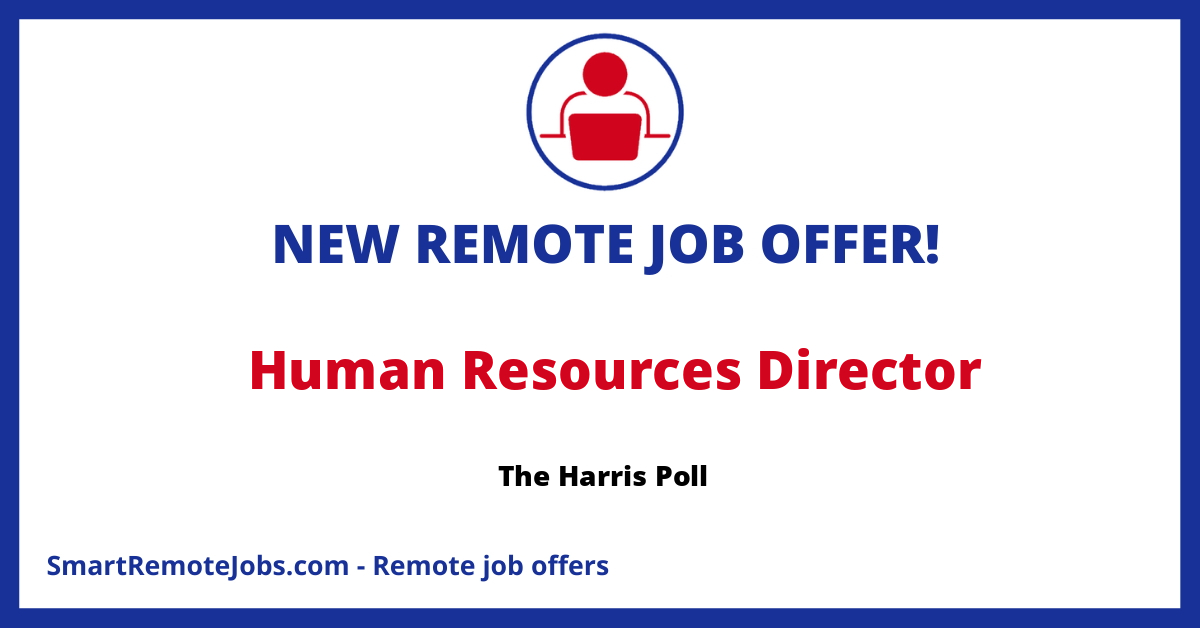 HR Director Opportunity at The Harris Poll
The Harris Poll has an opening for an experienced Human Resources Director. This new role in the organization will focus specifically on HR Operations, with the HR Director navigating international employment law, policy development, and change management. Reporting to the Chief People Officer, the candidate will handle multiple responsibilities and priorities, assess areas of need in the organization, and collaborate with varied stakeholders.
The HR Director will have some people management roles within the team and be responsible for policy development and implementation, and HR trend and data utilization to boost employee experience and meet the organization's objectives. The candidate will apply their expert knowledge to multiple areas inside HR and have superb emotional intelligence with strong communication and project management skills.
Roles and Responsibilities
Some of the responsibilities this role necessitates include being the specialist for Canadian HR, acting as change agent and creating change management plans. They will fashion tailored HR solutions for company needs, use metrics and data for improvements, lead HR practices in alignment with company strategy. They are also expected to develop trusting relationships with leaders, manage multiple projects, and drive talent management programs.
Skills and Qualifications
Candidates are required to have seven years of experience in progressive Human Resources positions, a Bachelor's degree, and experience with international employment law, in particular Canadian law. Strong HR knowledge and process, system, technologies, policy and procedure familiarity is a must. They need to thrive in a fast-paced environment and be able to manage team members remotely with excellent organization and prioritization skills.
Compensation and Benefits
The chosen candidate will enjoy a comprehensive benefits package, including medical, dental, and vision insurance, along with a 401K retirement savings plan, unlimited PTO, and paid holidays. Harris Poll offers up to 16 weeks of fully paid parental leave and continues to support full-time remote work.
About The Harris Poll
The Harris Poll is a strategic marketing consultancy specializing in delivering social intelligence for innovative times. It is part of the Stagwell company but operates independently. Despite being founded in 1963, it currently operates in 'start-up' mode, welcoming creative and ambitious problem solvers to its team. They are an equal opportunity employer and value diversity.
This job offer was originally published on Remotive