Recruiter (Japanese)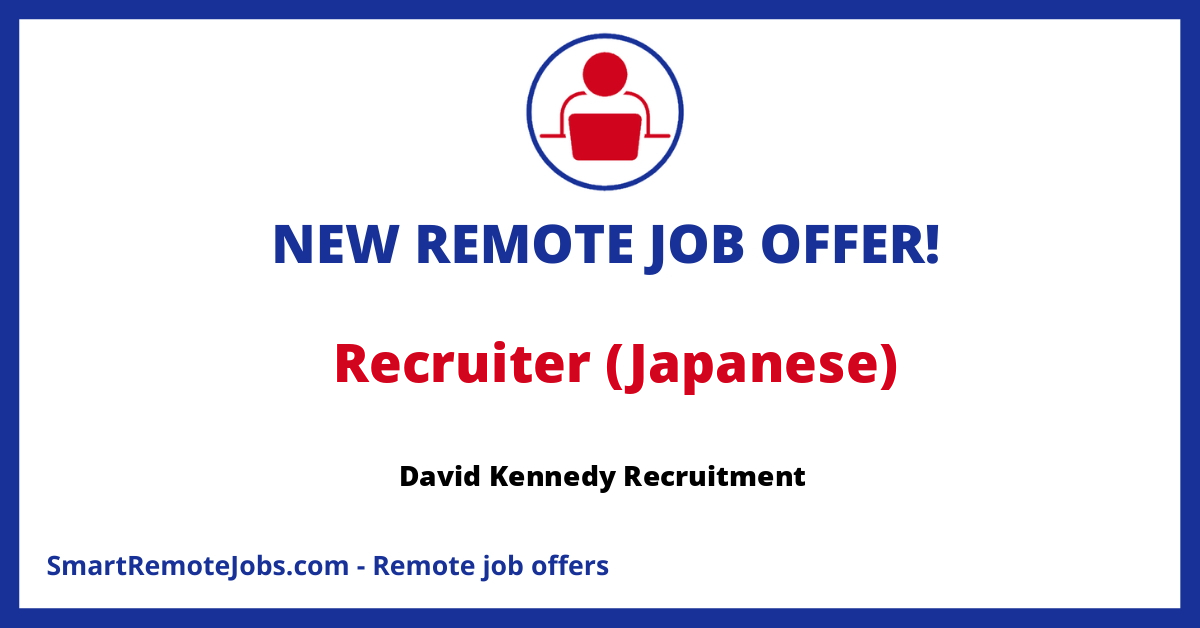 David Kennedy Recruitment: Freelance Japanese-Speaking Recruiter Needed
David Kennedy Recruitment is currently searching for a freelance recruiter who is fluent in Japanese. The recruiter will be responsible for connecting qualified individuals to their desired career opportunities, particularly in the Japanese market. Payment is commission-based, corresponding to the successful placement of candidates.
Position and Remuneration
The position is entirely freelance and can be performed remotely from anywhere. The selected candidate will have the ability to invoice for their services. Compensation is directly tied to the success of placing candidates in their respective roles and is completely commission-based.
Job Responsibilities
The freelancer will use various resources like job boards, social media, etc., to seek and attract superior candidates. They will conduct interviews, evaluate qualifications, and identify the ideal match for specific job positions. Working alongside the Service Delivery Manager and Managing Director, the freelancer will help ensure a smooth recruitment process. They will keep a pipeline of qualified candidates for future opportunities, facilitate interviews, and update ATS with candidate profiles.
Requirements
The candidate must be fluent in spoken and written Japanese and English. Prior experience in a similar role is preferred, as well as having excellent communication skills, multitasking abilities, and organizational capacities. Knowledge of recruitment best practices and sourcing techniques is beneficial, as is familiarity with applicant tracking systems (ATS).
Benefits
Benefits include a competitive commission-based compensation structure, flexibility to work remotely, exposure to diverse industries, a supportive team environment, and the advantage of collaborating with David Kennedy Recruitment.
This job offer was originally published on Remotive