Sr. Data Scientist, Machine Learning – NLP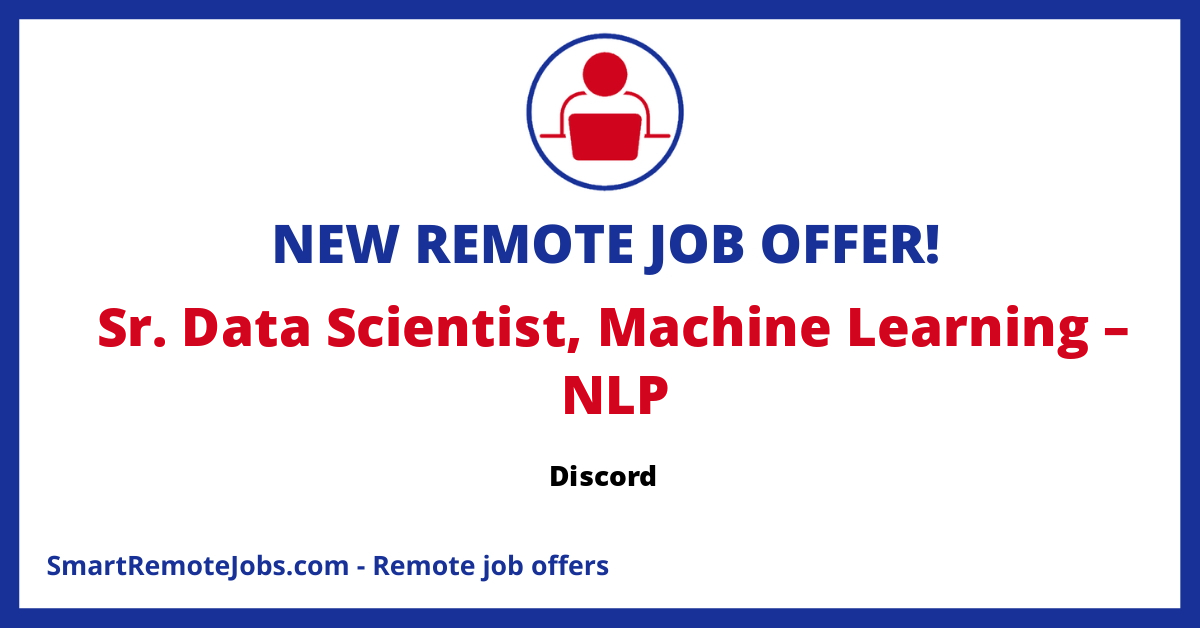 Job Opportunity: Machine Learning Data Scientist at Discord
Discord is seeking experienced and passionate Machine Learning Data Scientists who are capable of using advanced machine learning techniques to create a better understanding of their users, communities, and product. Their task will involve building predictive models on large data sets for high-impact company projects and collaboratively working with multiple teams such as product, engineering, and business.
Applicants must have a minimum of four years of industry experience in developing and implementing machine learning to solve business issues. They should be skilled in both supervised and unsupervised learning, neural networks, reinforcement learning, and modern NLP. A Master's degree or equivalent professional experience in a quantitative field is required, as well as proficiency in Python and familiarity with SQL. Experience with machine learning frameworks such as TensorFlow, PyTorch, Spark ML, scikit-learn is also needed.
The suitable applicant will be curious and self-motivated, with the capability to explain complex findings to different types of audiences. They will display a desire to work with passionate partners to solve tricky issues and improve Discord's user experience. An attribute of added advantage would be experience and expertise in explainable and trustworthy ML/AI.
This full-time job offers a base salary in the range of $204,000 to $235,000, alongside equity and benefits. Benefits include comprehensive medical insurance, mental health resources, adequate holidays and PTO, paid parental leave, flexible work options, volunteer time off, and other perks for office-based employees.
Discord, a voice, video, and text app, helps friends and communities come together to explore shared interests. With a strong user base, Discord doesn't rely on selling ads or user data and offers a premium subscription called Nitro. Discord aims to build an inclusive world where everyone can find a sense of belonging.
This job offer was originally published on Jobicy