Data Scientist, New Content Formats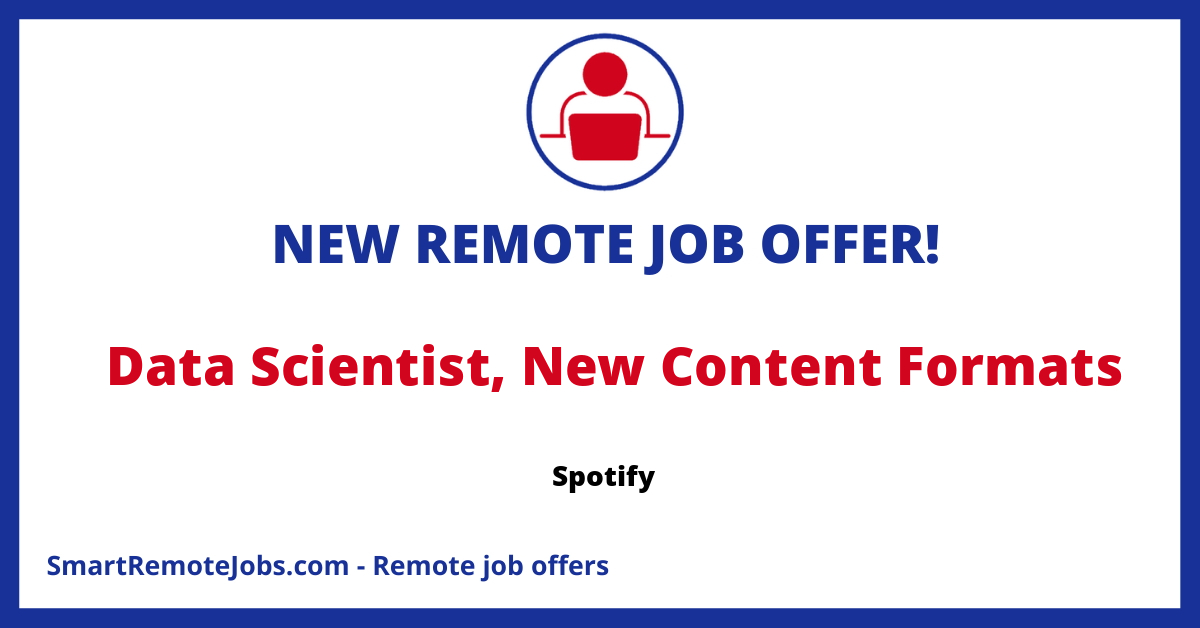 About Spotify
Spotify's mission is to unlock the potential of human creativity by providing an opportunity to artists, enabling them to live off their art and encouraging fans to enjoy and draw inspiration. The company prides itself on its love for world audio innovation and expressiveness. To date, Spotify boasts a community of over 515 million users, making it one of the world's most popular audio streaming subscription services.
Job Description
Spotify is searching for an outstanding Data Scientist to be a part of the Content Analytics team. The key responsibilities will involve analyzing large sets of data and extracting useful insights to aid decision-making process, especially in the context of new, innovative content formats. The role will also include formulating new data sets, features, and reports to understand user and creator interaction with the newly introduced content formats. The successful candidate will craft impactful presentations, sharing data-driven insights and recommendations with a variety of audience demographics.
Key Skills and Experiences
The applicant needs to have at least 2+ years in analyzing complex data using SQL, Python, or R and display a strong understanding of consumer-facing digital apps. An educational background in quantitative fields such as Computer Science, Mathematics, Statistics or Economics is desirable. The ideal candidate would also demonstrate an enduring curiosity, willingness to explore new domains, and have a knack for communicating ideas and findings effectively.
Perks and Benefits
The company has deployed the Work From Anywhere policy allowing added flexibility to employees. The base range for this position within the United States is $101,240- 144,628 with added equity. Other benefits include health insurance, six months paid parental leave, 401(k) retirement plan, monthly meal allowance, 23 paid days off, 13 flexible paid holidays, and paid sick leaves. Spotify celebrates diversity and is committed to creating an inclusive environment for all employees.
About Spotify
Since its launch in 2008, Spotify has revolutionized the music listening experience. With its determined mission to unlock the potential of human creativity by giving a platform for artists, it has grown to become the world's most popular audio streaming subscription service.
This job offer was originally published on Jobicy